Have you guys heard of the High Point Market located in High Point, North Carolina? This is actually a pretty cool event that happens twice a year in April and October!
What is the High Point Market? 
The High Point Market is the largest furnishings industry trade show in the world, bringing more than 75,000 people to High Point every six months. Serious retail home furnishings buyers can be found in High Point twice a year because if you can't find it in High Point…it probably doesn't exist.
It consists of…
180 Buildings
11.5 Million Square Feet of Show space
75,000 Attendees Each Market
More Than 2000 Exhibitors
100+ Countries Represented
Tens of Thousands of New Product Introductions
Approximately 10% of Attendees Are International
"Market Facts." High Point Market. N.p., n.d. Web. 07 May 2015.
What can you find there?
You can find one of a kind products that have yet to be introduced to the designer world! Furniture, accessories, and so much more to discover throughout every single building! There are also a bunch of educational events, seminars, and other social events to help you learn, social, and network with in the designer world.
This is a picture of the map from April 2015. A map of the event in October will be available late September 2015.
Designers! Designers! Designers!
This event is known for its wide variety of designers from all over the world! But who exactly can be seen here? Past designers and companies include:
Antonello Italia
Modern contemporary dining tables, sideboards, bookcases, TV stands, coffee tables, consoles, complements. Made in Italy.
Imports Decor Inc.
Imports Décor is located in Hillsborough, NJ. We carry an extensive line of stylish and elegant interior accessories and high quality doormats. Our products are manufactured in India, ensuring the highest quality and lowest price.
Kravet Fabrics
Kravet Inc., established in 1918, is the industry leader in to-the-trade home furnishings. This fifth generation family business distributes fabrics, furniture, wall coverings, trimmings, carpets and accessories. The family's commitment to innovation has helped the company transform from a small fabric house to a global leader, representing brands and designers from all over the world. Kravet Inc. owns Kravet, Lee Jofa, Groundworks, GP & J Baker and Brunschwig & Fils, all high-end fabric houses that specialize in style, luxury and exceptional design. With locations in North America and worldwide, Kravet Inc. offers the highest level of customer service, quality products and web technology for today's design professional. For further brand information, please refer to www.kravet.com.
…and many, many more!
"Find Exhibitors." High Point Market. N.p., n.d. Web. 07 May 2015.
Here is a short video on the exciting new products that are to come!
https://www.youtube.com/watch?feature=player_embedded&v=7l0xW13NAOs
"News & Videos." High Point Market. N.p., n.d. Web. 07 May 2015.
I've been on a tropical punch lately with summer approaching! The tropical style has been around for years and years, but lately I have been noticing it showing up more and bolder than ever! 
Let's picture an island. What do you see? Palm trees? Sand? Vibrant colors? Let me give you some inspiration!
Bora Bora
British Virgin Islands- St. Thomas
Phi Phi Island- Thailand
Okay, those pictures are almost too perfect and basically thousands of miles away! Why not bring some of that tropical  into your very own home for a vacation you never have to leave?!
Colors! Colors! Colors!
This is the perfect opportunity to bring out those big, bold colors and prints! Come on now, don't be shy with those either! The more colors, the better! Pick at least 3 different colors to start out with! Here are a couple of different color pallets that are fun and tropical!
Sherwin-Williams
Better Homes and Garden
Patterns
Lets add some patterns in there with those colors!
Don't Forget That Greenery!
Here is a great go to guide for those greens to add into your space! Remember… there are more plants out there than just palm trees!
Lets Put It All Together!
There's only one thing left to do and that's to put it all together! Remember, this is your tropical vacation spot! You can alternate any of these designs to make it all your own!
I hope this gives you some inspiration to design your own tropical paradise!
Images found on Google and Pinterest
***For more inspiration check out our Pinterest Pages at
https://www.pinterest.com/thesimplelifede/a-tropical-touch/
https://www.pinterest.com/thesimplelifede/color-is-beautiful/
BONUS!
Here is a simple recipe I have found to enjoy while in your vacation spot 🙂
Ingredients:
Large Batch:
– 1/2 cup lemon juice
– 1/4 cup strawberry puree (approximately 10 strawberries blended well)
– 3/4 cup sugar (or to taste)
– 1 Tbsp vanilla extract
– 1/4 cup pineapple puree (crushed pineapple works too)
– 1 gallon water
Single Serving:
– 2 Tbsp lemon juice
– 1 Tbsp strawberry puree (approximately 3 strawberries blended well)
– 3 Tbsp sugar
– 1/2 tsp vanilla extract
– 1 Tbsp pineapple puree (approximately 6 pineapple chunks)
– 12 oz water
Directions:
– Mix all ingredients in a large pitcher or a large glass until sugar is dissolved and well mixed.  Serve over ice or chill in the fridge.  Enjoy!
http://www.whilehewasnapping.com/2014/07/strawberry-pineapple-lemonade/
Color is every where… we can't escape it! Have you ever thought about what color does to you? To your emotions? Color can affect our brainwaves, motions, and biological systems. Now, when decorating your bedroom or living room, have you ever really thought about the colors your using? Here are some examples of how colors can affect you~
Red: courage, excitement, love, passion, sexy, increases appetite, festivity ( holidays).
Negative- hatred, aggressive, rage, war, raises blood pressure, fear.
Consumer Behavior- used to increase impulse buying
Blue: associated with water, cool, calm, comfortable, clean, relaxing.
Negative- Introversion, sadness, depression, cold, low class, isolation, loneliness, gloominess
Consumer Behavior: Fashion consultants recommend wearing blue to job interviews because it symbolizes loyalty. Lighter shades have been used to symbolize luxury.
Green: relaxed, growth, renewal, eternal life
Negative: poison, envy, inexperience, immaturity, sourness, disease, guilt, rawness.
Consumer Behavior: Hospitals often use green because it relaxes patients.
Orange: warmth, fruitfulness, brightness, happiness, strength, endurance
Negative: brashness, danger, increases pulse rate, inexpensive/cheap
Consumer Behavior: associated with inexpensive items and highlight sale items.
Yellow: cheerful. happiness, gold, sun, wisdom, self-esteem
Negative: Caution, sickness, nervousness
Consumer Behavior: Yellow enhances concentration, hence its use for legal pads and pencils
Take a look at these photos and think about how these rooms make you feel…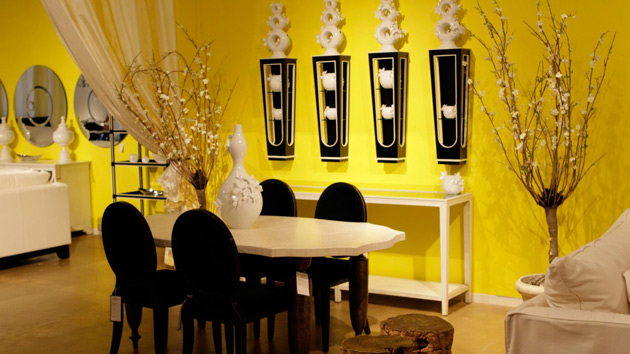 How do you feel about these spaces? Did the colors make you anxious? Did they relax you? How much time do you think you'll be able to spend time in these rooms? Hopefully next time when you're in a room where there may be a bright yellow vase, you'll be able think about why that vase may or may not bother you!
Images found by Google.com
Reed, Ron. Color Design: Transforming Interior Space. New York: Fairchild, 2010. Print.