Color is every where… we can't escape it! Have you ever thought about what color does to you? To your emotions? Color can affect our brainwaves, motions, and biological systems. Now, when decorating your bedroom or living room, have you ever really thought about the colors your using? Here are some examples of how colors can affect you~
Red: courage, excitement, love, passion, sexy, increases appetite, festivity ( holidays).
Negative- hatred, aggressive, rage, war, raises blood pressure, fear.
Consumer Behavior- used to increase impulse buying
Blue: associated with water, cool, calm, comfortable, clean, relaxing.
Negative- Introversion, sadness, depression, cold, low class, isolation, loneliness, gloominess
Consumer Behavior: Fashion consultants recommend wearing blue to job interviews because it symbolizes loyalty. Lighter shades have been used to symbolize luxury.
Green: relaxed, growth, renewal, eternal life
Negative: poison, envy, inexperience, immaturity, sourness, disease, guilt, rawness.
Consumer Behavior: Hospitals often use green because it relaxes patients.
Orange: warmth, fruitfulness, brightness, happiness, strength, endurance
Negative: brashness, danger, increases pulse rate, inexpensive/cheap
Consumer Behavior: associated with inexpensive items and highlight sale items.
Yellow: cheerful. happiness, gold, sun, wisdom, self-esteem
Negative: Caution, sickness, nervousness
Consumer Behavior: Yellow enhances concentration, hence its use for legal pads and pencils
Take a look at these photos and think about how these rooms make you feel…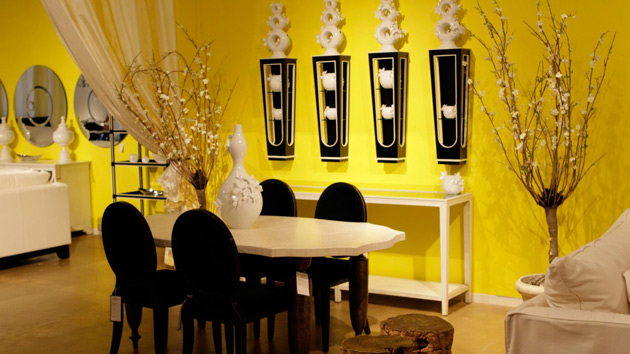 How do you feel about these spaces? Did the colors make you anxious? Did they relax you? How much time do you think you'll be able to spend time in these rooms? Hopefully next time when you're in a room where there may be a bright yellow vase, you'll be able think about why that vase may or may not bother you!
Images found by Google.com
Reed, Ron. Color Design: Transforming Interior Space. New York: Fairchild, 2010. Print.