One of the most difficult things when my husband and I built our house was choosing paint colors.  Armed with several fan decks of paint swatches with seemingly thousands of choices (who knew there could be so many choices for white!?), we attempted to visualize an entire room using a 2 x 2 inch square sample.
The process was overwhelming and here's a little known secret, even though I have a furniture and decor store, design doesn't come easily to me.  That's why I am happy to share tools when I find them that can help others who struggle like me.
Life would have been so much easier back when we were building our house if I had an iPhone with some handy apps that could help me in this process. SherwinWilliams' ColorSnap app and Benjamin Moore's Color Capture app allow you to take a picture of a color that you like and it will match it to one of their colors.  If there is variation in the photo, it will match each of the colors in the photo.  Take a picture of furniture you like or a picture of a wall you see at a friend's house.  So simple!  One word of caution though is that the lighting can completely change the color so remember that when snapping the photo.
These apps are a great tool to help narrow down color choices but doesn't completely eliminate the need for reviewing the color samples in the store.  Choosing paint colors doesn't have to be so overwhelming with this little lifehack!
Guess who added Reclaimed Wood Furniture to her store?!  This gal!  Check out our gorgeous new handcrafted tables and chairs and continue to check back for new items being added.    You can find them all here!
Driftwood Coffee Table with Shelf
Whitewash Driftwood Coffee Table
Give your bar a nautical flair with this nautical bar!
Wouldn't you love to kick back on a swing like this with a good book and glass of lemonade?
You can purchase this swing from my store The Simple Life Decor.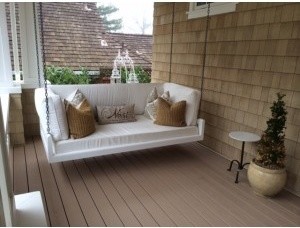 I really like the horizontal paneling in this room.  I thought the driftwood mantel in this coastal style living room was interesting. What do you think of it?