I've been on a tropical punch lately with summer approaching! The tropical style has been around for years and years, but lately I have been noticing it showing up more and bolder than ever! 
Let's picture an island. What do you see? Palm trees? Sand? Vibrant colors? Let me give you some inspiration!
Bora Bora
British Virgin Islands- St. Thomas
Phi Phi Island- Thailand
Okay, those pictures are almost too perfect and basically thousands of miles away! Why not bring some of that tropical  into your very own home for a vacation you never have to leave?!
Colors! Colors! Colors!
This is the perfect opportunity to bring out those big, bold colors and prints! Come on now, don't be shy with those either! The more colors, the better! Pick at least 3 different colors to start out with! Here are a couple of different color pallets that are fun and tropical!
Sherwin-Williams
Better Homes and Garden
Patterns
Lets add some patterns in there with those colors!
Don't Forget That Greenery!
Here is a great go to guide for those greens to add into your space! Remember… there are more plants out there than just palm trees!
Lets Put It All Together!
There's only one thing left to do and that's to put it all together! Remember, this is your tropical vacation spot! You can alternate any of these designs to make it all your own!
I hope this gives you some inspiration to design your own tropical paradise!
Images found on Google and Pinterest
***For more inspiration check out our Pinterest Pages at
https://www.pinterest.com/thesimplelifede/a-tropical-touch/
https://www.pinterest.com/thesimplelifede/color-is-beautiful/
BONUS!
Here is a simple recipe I have found to enjoy while in your vacation spot 🙂
Ingredients:
Large Batch:
– 1/2 cup lemon juice
– 1/4 cup strawberry puree (approximately 10 strawberries blended well)
– 3/4 cup sugar (or to taste)
– 1 Tbsp vanilla extract
– 1/4 cup pineapple puree (crushed pineapple works too)
– 1 gallon water
Single Serving:
– 2 Tbsp lemon juice
– 1 Tbsp strawberry puree (approximately 3 strawberries blended well)
– 3 Tbsp sugar
– 1/2 tsp vanilla extract
– 1 Tbsp pineapple puree (approximately 6 pineapple chunks)
– 12 oz water
Directions:
– Mix all ingredients in a large pitcher or a large glass until sugar is dissolved and well mixed.  Serve over ice or chill in the fridge.  Enjoy!
http://www.whilehewasnapping.com/2014/07/strawberry-pineapple-lemonade/
5 Simple Tips to Create a Relaxing Home   

By Guest Blogger Susan Shehata
I believe that one of the reasons that vacations are so relaxing is that you are surrounded by a peaceful environment.
Not just that beautiful beach or that lovely mountain view, but the indoor surroundings as well. You are often staying in a place that is free of clutter, and visually appealing.
You can bring that same serenity to your own home as well, by following these five simple tips:
Assign a home for clutter
Start by collecting any objects that are randomly hanging out in the space.  Assign a home to any of those items that do not already have a designated spot to live. If you don't have enough space for that to happen, then it means that you have too much stuff for your current living situation. Begin the de-cluttering process by eliminating doubles of items, things you don't use, and things that you "just don't get around to" repairing.
Surround yourself with what you love
From paint color to furniture to décor, be intentional about what you choose to surround yourself with. Often these choices were made on the fly, or out of convenience. Do not underestimate the importance of consciously selecting things that make you feel good in the space. When you have objects that you are indifferent to, or actually dislike, it subconsciously affects your feelings about the space.
Have clear systems
Clutter happens when we don't have a system in place that works for you. Whether it's the incoming mail, the sporting equipment or the laundry, if you don't have a clear process for how objects move from point A to point B, things get backlogged. Address your most problematic areas by implementing a system that works for you. If you have a system in place, and things are still chaotic, that is a sign that the system is not in alignment. Proper systems take experimentation. Keep trying until you find something that works for you!
Designate a Maintenance area
Often stuff that requires our attention hangs out in our active living areas demanding our focus, and yet these objects get ignored. After a bit, they start blending in with everything else and become part of a cluttered landscape, stealing our peace of mind. Designate an area where these objects will be stored until they are handled. And so they are not forgotten, create an actual time in your schedule, such as when you are doing other household chores, to address one or two objects from this area.
Add vacation spot elements
Whether you are drawn to the beach in Bali or the museums of Rome, surround yourself with items that evoke your favorite vacation destination. This might mean seashells, sheer curtains and lanterns or ornately framed artwork. You decide! What physical elements do you think of when you think of relaxing? Add these items into your living spaces.
____________________________________________________________
Ready to relax? Don't miss the Fabulous Paper Purge this April! Release your paper clutter & clear your mind with the free 7 day online guided event. Connect with Susan on Facebook for her weekly tips.
Susan Shehata, also known as The Space Guru™, is an Educator, Holistic Guide and Performing Artist, who specializes in helping you identify and release hidden obstacles that hold you back from an Inspired Home & Life. Though her offerings are varied, the goal of her work is the same: to clear the deep patterns of resistance in people's lives. www.SusanShehata.com
Do you have a relatively small kitchen space? Whether the small space is at home or at a cottage, you can make the most out of your small spaces with these few hacks and tricks!
1.) Small furniture in a small space isn't always best. A bigger dining table or chairs can often be better than a smaller size. Bigger doesn't always mean over powering.
2.) Combine like objects such as garbage and recycle into a cabinet space. Have it "hidden" within the cabinet space.
3.) Use mirrors or glass to bounce light around, it'll make the room look more spacious.
4.) Think vertically! Vertical lines make the room "reach up to the sky." This can involve cabinets, artwork, and appliances.
5.) To the ceiling cabinets. Cabinets that stop before the ceiling really show how small the room may be.
6.) Light colored cabinets. Light colored cabinets and cabinets with glass front doors lighten up the space where dark colored cabinets give the impression that the room is much smaller that it is.
7.) Let light in. Don't have a window treatment that blocks a lot of light entering the room. Rooms that don't have a lot of light entering them tend to downsize them.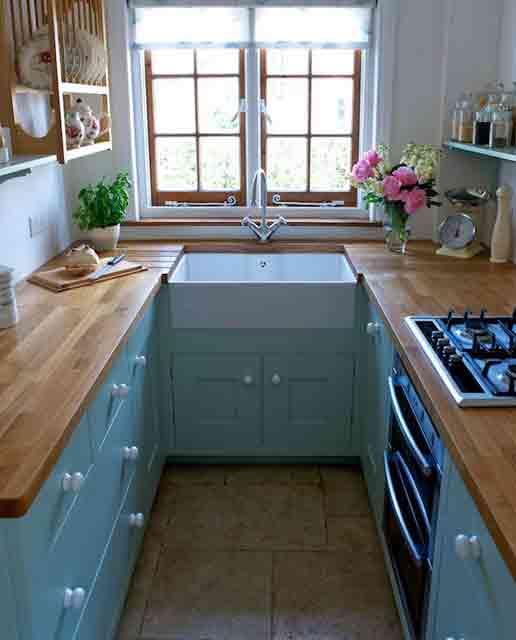 8.) Put function FIRST. Create the space based on your natural habits. If the first thing you do in the morning is get a pot of coffee going, then make sure that is a very accessible spot verses putting in storage and taking it out every morning. That way, it'll be easier to go about your daily routine.
9.) Make sure you can move efficiently between the stove, sink, and refrigerator. This is what's called the work triangle. According to NKBA (National Kitchen and Bath Association) standards, space between the sink to the refrigerator should be no more than 9 feet. From the sink to the stove should be no more than 4 feet. Obviously in a smaller space this isn't exactly possible, therefore adjustments would be made.
There you have it! Hopefully these great tips will help enlarge your small area of a kitchen within your home or home away from home! If you have anymore tips or tricks, please share with us in the comment box below!
Please check us out on Facebook, Twitter, and Pinterest for more great inspirations!
https://www.facebook.com/TheSimpleLifeDecor
https://www.pinterest.com/thesimplelifede/
https://twitter.com/TheSimpleLifeDe
Images founded on Google.
About a month ago, I was struck by a scene that I had witnessed by a couple at a popular restaurant in a tourist area in Wisconsin. They appeared to be two parents who had gotten away for a romantic weekend  and were seated at a table with a beautiful view of the water.  Instead of talking to each other or enjoying the scenery, they were taking pictures of their food and posting to Facebook about what I can only assume is the awesome time they were having on their vacation.  They spent a good portion of the meal on their phones and really missing out on the gorgeous scenery in front of them and the time that they had together.
Isn't this a common scene though? How many times have people spent more time engaged with their online friends than with the ones right in front of them? How many times have people been more concerned with bragging about the awesome time they are having than actually enjoying the time they are having?  How many conversations are had between friends, spouses, boyfriends/girlfriends over text message rather than just picking up the phone and talking to each other? How many times have I opted to spend 10 minutes ordering online rather than 2 minutes calling the pizza place?
Often I am guilty of taking so many pictures to capture a moment that I forget to enjoy it sometimes.  I get frustrated when my kids don't look at the camera or if they make a silly face.  Instead of taking the moment in to remember it,  I'm more concerned about how to document the memory on my camera and share it on social media.
Are we truly a disengaged, engaged society?  Are we so engaged in what our friends are doing that we are disengaged in everything going on around us? Are we so afraid to miss out on something online that we miss out on the moments that really count?
Simple Living Tip:  Today, I challenge you to put down the phones and step away from the social arena to be more present. Opt to be engaged in the people who are in front of you over the people you are trying to impress online.  The ones that truly matter don't need to be impressed anyway.
Isn't life wonderful on Bragbook… er I mean Facebook? On Facebook I'm so ambitious. I ran an Iron Man, baked 5 dozen cookies, did 20 loads of laundry, and it's only 5 am. It sounds so much better than sitting on the couch in my PJ's till 3pm. On Facebook , my husband and I have the perfect marriage. We write each other Facebook status love letters and have riveting conversation every night at the family dinner table while our children throw spaghetti-o's at each other in the background. We never fight or lose our patience with each other. On Facebook, I am rich. We have a mansion, take lavish vacations and drive Maseratis. On Facebook, my children are wonderful. They get straight A's, get chosen for the lead part in the play, and listen to everything I say. They are prodigies. On Facebook, my job is glorious! I LOVE managing people and I get to travel to glorious places and I never get stressed out. I'm the CEO of a Fortune 500 company at 35!
These of course are exaggerations but I have been known to do a bit of bragging and glossing over the not so fun parts on Facebook. If you say you haven't, I'll call BS. The worst part is that we compare ourselves to these glorified statuses and feel worse about our own lives. I have had the opportunity to have conversations with a number of friends over time and have realized that underneath the surface we all have our struggles. Whether it be kids, marriage, job, finances…. we all have a cross to bear. If you were like me in college and high school, we used to spill our guts to anyone who would listen. Now, we keep it all bottled inside and try to make our lives look more put together than they always are.
I can't say that I will completely stop bragbooking but just remember when you read those glorious statuses from me or anyone else that life is hard and not to feel worse about your own life. Be happy for them but don't wonder why your life isn't as fulfilling as theirs. Part of simple living is learning to not compare ourselves to others. We all have a struggle and their life is probably not as glorious as their Facebook status would imply.
Last October, I opened my store, TheSimpleLifeDecor.com.  It has been overwhelming at times (okay, most of the time)  to sort through all that needs to be done and trying to balance it all.  I also have a full time job and am raising a young family so simple living with so much going on seems unattainable. But I've discovered that it is as much a state of mind as it is a product of my surroundings.  One important lesson that I've learned is that quieting the noise around me is the best way for me to be successful.
Anyone with young kids is probably thinking that "quieting the noise" must be metaphorical, and that I could not have possibly found the Holy Grail of child rearing.  In many ways you are correct. There is not a great way of quieting the kids (my kids at least). There is a time when this magic occurs though… 5 am.  I get up at 5 am nearly every morning before I head off to my full time job and have over an hour of complete peace to grab my coffee and work on whatever I need to get accomplished before the harried day begins. More on the power of 5 am in a future post.
What I really want to focus on though is quieting the noise from the metaphorical sense.  In a new business, there is so much to do and it is difficult not to compare myself to other long-established businesses.  There are customers to serve, products to add, SEO to complete, blogging to do, networking to be done on several social media platforms, books to read, blogs to read, podcasts to listen to learn how to improve, prices to monitor…. the list goes on and on.  It's enough to make anyone's head spin.  There have been three very powerful lessons that I have learned recently though that have helped me in quieting the noise.
The first lesson comes from "The One Thing" by Gary Keller and Jay Papasan. I ask myself this question which is the premise of the book: "What's the ONE Thing I can do such that by doing it everything else will be easier or unnecessary?" By focusing on the ONE thing and not letting the noise from the rest of the world distract me, I am able to complete the most important thing that I need to get done.  Once that ONE thing is complete, rinse and repeat. "What's the ONE Thing I can do such that by doing it everything else will be easier or unnecessary?" and on and on chipping away at the things I need to accomplish. Instead of being overwhelmed by the mountain, I can focus on the step immediately in front of me.  I still struggle with this as a multi-tasker at heart but the book also discusses how multi-tasking actually slows down progress.  I am starting to believe it and I'm working at focusing at the one task at at hand rather than trying to do many tasks.
The second lesson is from Jon Acuff to not compare my beginning to someone else's middle. It's easy to get caught up in the comparison game and see that another business/site/employee/parent you name it is doing better than I am. It's important not to compare especially comparing where I am to others who have been long established. Everyone starts somewhere and so have I. Rarely do we get to hear the struggles that it's taken to achieve the success that we compare against.
The third lesson is to quiet the voices (seek help if you really hear voices : ) but what I mean is the voices that tell you you're not good enough, strong enough, smart enough, dedicated enough … They may things that you tell yourself or people around you that don't support your dreams.  These voices are often wrong and destroy more dreams than failure ever will. They don't deserve any real estate in your head.
There are many lessons to be learned about staying focused in a noisy world if you seek them out. They say success is a journey, not a destination. We need to treat ourselves with grace and be patient to take the next step without beating ourselves up if we stumble.