Do you have a relatively small kitchen space? Whether the small space is at home or at a cottage, you can make the most out of your small spaces with these few hacks and tricks!
1.) Small furniture in a small space isn't always best. A bigger dining table or chairs can often be better than a smaller size. Bigger doesn't always mean over powering.
2.) Combine like objects such as garbage and recycle into a cabinet space. Have it "hidden" within the cabinet space.
3.) Use mirrors or glass to bounce light around, it'll make the room look more spacious.
4.) Think vertically! Vertical lines make the room "reach up to the sky." This can involve cabinets, artwork, and appliances.
5.) To the ceiling cabinets. Cabinets that stop before the ceiling really show how small the room may be.
6.) Light colored cabinets. Light colored cabinets and cabinets with glass front doors lighten up the space where dark colored cabinets give the impression that the room is much smaller that it is.
7.) Let light in. Don't have a window treatment that blocks a lot of light entering the room. Rooms that don't have a lot of light entering them tend to downsize them.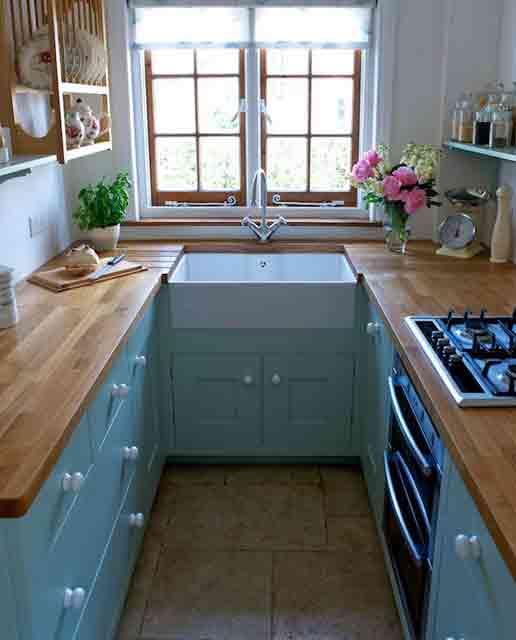 8.) Put function FIRST. Create the space based on your natural habits. If the first thing you do in the morning is get a pot of coffee going, then make sure that is a very accessible spot verses putting in storage and taking it out every morning. That way, it'll be easier to go about your daily routine.
9.) Make sure you can move efficiently between the stove, sink, and refrigerator. This is what's called the work triangle. According to NKBA (National Kitchen and Bath Association) standards, space between the sink to the refrigerator should be no more than 9 feet. From the sink to the stove should be no more than 4 feet. Obviously in a smaller space this isn't exactly possible, therefore adjustments would be made.
There you have it! Hopefully these great tips will help enlarge your small area of a kitchen within your home or home away from home! If you have anymore tips or tricks, please share with us in the comment box below!
Please check us out on Facebook, Twitter, and Pinterest for more great inspirations!
https://www.facebook.com/TheSimpleLifeDecor
https://www.pinterest.com/thesimplelifede/
https://twitter.com/TheSimpleLifeDe
Images founded on Google.
Unruly junk drawer(s)?  I have an endless battle with my junk drawers and usually they win.  These are some really simple solutions to keep organized with things you already have laying around your house. Brilliant!
http://www.pinterest.com/pin/504332858243434974/
MSNLiving
I have thousands upon thousands of pictures that haven't been developed since they came out with this grand invention called the digital camera.  The number of pictures I have are staggering but here are some ideas I have found for tackling this overwhelming issue:
  Create a photo montage to music. I make one for each of my kids on their birthdays or after a special event like a Disney Vacation. They are fun to watch and can contain a lot of pictures.  Windows has a program called Movie Maker that is free and easy to use. It's usually already installed on your computer out of the box.
  If you bought a digital frame when they were all the rage, you probably have used it just as much as I did… for about a week.  More often than not, I have seen digital frames not being used when I've gone to friends' houses.  Recently I brought mine to work for my desk and now get a ton of enjoyment by seeing pictures I haven't seen in years being displayed.  I simply upload the pictures to a USB thumb drive instead of uploading them to the internal memory. Buy a USB drive that's large enough to hold thousands of pictures.
 Organize all of your photos in folders on your computer.  I sort my pictures into folders such as Christmas 2013, Easter 2013, Apple Picking 2013, etc.  My pictures are easier to find and I can scroll through whichever photos I want when I want to reminisce.
Do you have 10 pictures of the same pose hoping to get everyone to look the right way and keep their eyes open? One way to tackle this issue is to use Windows Live Photo Gallery photo fuse. Again, it's a free program offered by Windows. It allows you to take two nearly identical poses and swap heads, bodies, smiles, etc. This allows you to get the best pose of each person into one photo. Then you can delete the rest of the photos you don't need. Here are some older instructions on how to use photo fuse but are still relevant: http://www.pcadvisor.co.uk/how-to/software/3281459/how-to-fuse-photos-in-windows-live-photo-gallery-2011/
Best of luck tackling this overwhelming issue! Happy simplifying!