Do you have a relatively small kitchen space? Whether the small space is at home or at a cottage, you can make the most out of your small spaces with these few hacks and tricks!
1.) Small furniture in a small space isn't always best. A bigger dining table or chairs can often be better than a smaller size. Bigger doesn't always mean over powering.
2.) Combine like objects such as garbage and recycle into a cabinet space. Have it "hidden" within the cabinet space.
3.) Use mirrors or glass to bounce light around, it'll make the room look more spacious.
4.) Think vertically! Vertical lines make the room "reach up to the sky." This can involve cabinets, artwork, and appliances.
5.) To the ceiling cabinets. Cabinets that stop before the ceiling really show how small the room may be.
6.) Light colored cabinets. Light colored cabinets and cabinets with glass front doors lighten up the space where dark colored cabinets give the impression that the room is much smaller that it is.
7.) Let light in. Don't have a window treatment that blocks a lot of light entering the room. Rooms that don't have a lot of light entering them tend to downsize them.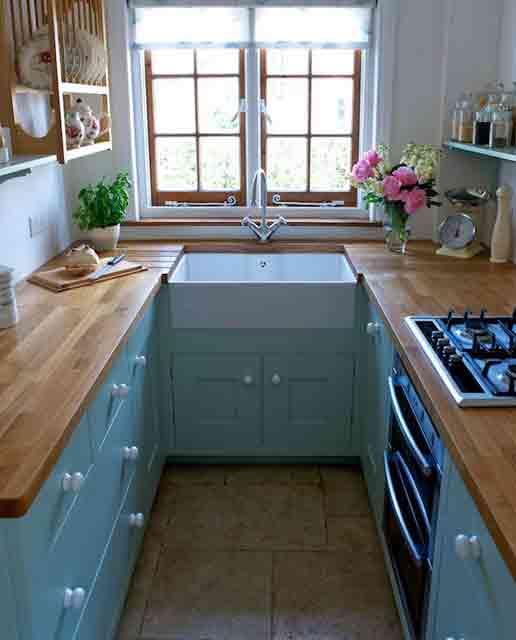 8.) Put function FIRST. Create the space based on your natural habits. If the first thing you do in the morning is get a pot of coffee going, then make sure that is a very accessible spot verses putting in storage and taking it out every morning. That way, it'll be easier to go about your daily routine.
9.) Make sure you can move efficiently between the stove, sink, and refrigerator. This is what's called the work triangle. According to NKBA (National Kitchen and Bath Association) standards, space between the sink to the refrigerator should be no more than 9 feet. From the sink to the stove should be no more than 4 feet. Obviously in a smaller space this isn't exactly possible, therefore adjustments would be made.
There you have it! Hopefully these great tips will help enlarge your small area of a kitchen within your home or home away from home! If you have anymore tips or tricks, please share with us in the comment box below!
Please check us out on Facebook, Twitter, and Pinterest for more great inspirations!
https://www.facebook.com/TheSimpleLifeDecor
https://www.pinterest.com/thesimplelifede/
https://twitter.com/TheSimpleLifeDe
Images founded on Google.
One of the most difficult things when my husband and I built our house was choosing paint colors.  Armed with several fan decks of paint swatches with seemingly thousands of choices (who knew there could be so many choices for white!?), we attempted to visualize an entire room using a 2 x 2 inch square sample.
The process was overwhelming and here's a little known secret, even though I have a furniture and decor store, design doesn't come easily to me.  That's why I am happy to share tools when I find them that can help others who struggle like me.
Life would have been so much easier back when we were building our house if I had an iPhone with some handy apps that could help me in this process. SherwinWilliams' ColorSnap app and Benjamin Moore's Color Capture app allow you to take a picture of a color that you like and it will match it to one of their colors.  If there is variation in the photo, it will match each of the colors in the photo.  Take a picture of furniture you like or a picture of a wall you see at a friend's house.  So simple!  One word of caution though is that the lighting can completely change the color so remember that when snapping the photo.
These apps are a great tool to help narrow down color choices but doesn't completely eliminate the need for reviewing the color samples in the store.  Choosing paint colors doesn't have to be so overwhelming with this little lifehack!
Guess who added Reclaimed Wood Furniture to her store?!  This gal!  Check out our gorgeous new handcrafted tables and chairs and continue to check back for new items being added.    You can find them all here!
Driftwood Coffee Table with Shelf
Whitewash Driftwood Coffee Table
Wouldn't you love to kick back on a swing like this with a good book and glass of lemonade?
You can purchase this swing from my store The Simple Life Decor.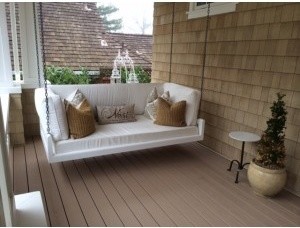 I really like the horizontal paneling in this room.  I thought the driftwood mantel in this coastal style living room was interesting. What do you think of it?
The ceiling in this place and the bench room divide?  Amazing!  Such a gorgeous coastal style living room!