I've been on a tropical punch lately with summer approaching! The tropical style has been around for years and years, but lately I have been noticing it showing up more and bolder than ever! 
Let's picture an island. What do you see? Palm trees? Sand? Vibrant colors? Let me give you some inspiration!
Bora Bora
British Virgin Islands- St. Thomas
Phi Phi Island- Thailand
Okay, those pictures are almost too perfect and basically thousands of miles away! Why not bring some of that tropical  into your very own home for a vacation you never have to leave?!
Colors! Colors! Colors!
This is the perfect opportunity to bring out those big, bold colors and prints! Come on now, don't be shy with those either! The more colors, the better! Pick at least 3 different colors to start out with! Here are a couple of different color pallets that are fun and tropical!
Sherwin-Williams
Better Homes and Garden
Patterns
Lets add some patterns in there with those colors!
Don't Forget That Greenery!
Here is a great go to guide for those greens to add into your space! Remember… there are more plants out there than just palm trees!
Lets Put It All Together!
There's only one thing left to do and that's to put it all together! Remember, this is your tropical vacation spot! You can alternate any of these designs to make it all your own!
I hope this gives you some inspiration to design your own tropical paradise!
Images found on Google and Pinterest
***For more inspiration check out our Pinterest Pages at
https://www.pinterest.com/thesimplelifede/a-tropical-touch/
https://www.pinterest.com/thesimplelifede/color-is-beautiful/
BONUS!
Here is a simple recipe I have found to enjoy while in your vacation spot 🙂
Ingredients:
Large Batch:
– 1/2 cup lemon juice
– 1/4 cup strawberry puree (approximately 10 strawberries blended well)
– 3/4 cup sugar (or to taste)
– 1 Tbsp vanilla extract
– 1/4 cup pineapple puree (crushed pineapple works too)
– 1 gallon water
Single Serving:
– 2 Tbsp lemon juice
– 1 Tbsp strawberry puree (approximately 3 strawberries blended well)
– 3 Tbsp sugar
– 1/2 tsp vanilla extract
– 1 Tbsp pineapple puree (approximately 6 pineapple chunks)
– 12 oz water
Directions:
– Mix all ingredients in a large pitcher or a large glass until sugar is dissolved and well mixed.  Serve over ice or chill in the fridge.  Enjoy!
http://www.whilehewasnapping.com/2014/07/strawberry-pineapple-lemonade/
Do you have a relatively small kitchen space? Whether the small space is at home or at a cottage, you can make the most out of your small spaces with these few hacks and tricks!
1.) Small furniture in a small space isn't always best. A bigger dining table or chairs can often be better than a smaller size. Bigger doesn't always mean over powering.
2.) Combine like objects such as garbage and recycle into a cabinet space. Have it "hidden" within the cabinet space.
3.) Use mirrors or glass to bounce light around, it'll make the room look more spacious.
4.) Think vertically! Vertical lines make the room "reach up to the sky." This can involve cabinets, artwork, and appliances.
5.) To the ceiling cabinets. Cabinets that stop before the ceiling really show how small the room may be.
6.) Light colored cabinets. Light colored cabinets and cabinets with glass front doors lighten up the space where dark colored cabinets give the impression that the room is much smaller that it is.
7.) Let light in. Don't have a window treatment that blocks a lot of light entering the room. Rooms that don't have a lot of light entering them tend to downsize them.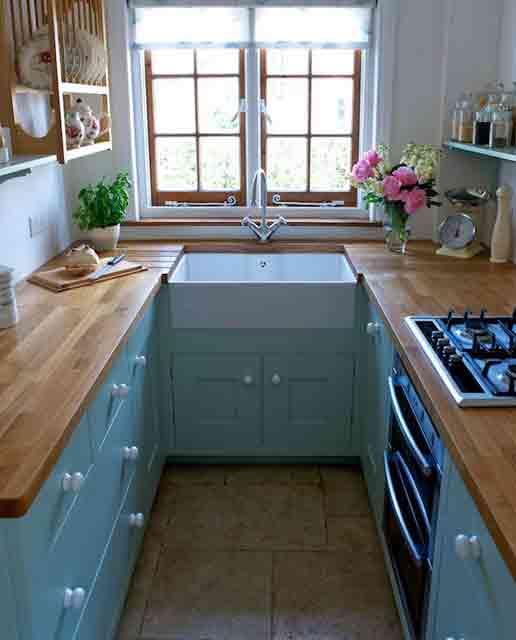 8.) Put function FIRST. Create the space based on your natural habits. If the first thing you do in the morning is get a pot of coffee going, then make sure that is a very accessible spot verses putting in storage and taking it out every morning. That way, it'll be easier to go about your daily routine.
9.) Make sure you can move efficiently between the stove, sink, and refrigerator. This is what's called the work triangle. According to NKBA (National Kitchen and Bath Association) standards, space between the sink to the refrigerator should be no more than 9 feet. From the sink to the stove should be no more than 4 feet. Obviously in a smaller space this isn't exactly possible, therefore adjustments would be made.
There you have it! Hopefully these great tips will help enlarge your small area of a kitchen within your home or home away from home! If you have anymore tips or tricks, please share with us in the comment box below!
Please check us out on Facebook, Twitter, and Pinterest for more great inspirations!
https://www.facebook.com/TheSimpleLifeDecor
https://www.pinterest.com/thesimplelifede/
https://twitter.com/TheSimpleLifeDe
Images founded on Google.