5 Simple Tips to Create a Relaxing Home   

By Guest Blogger Susan Shehata
I believe that one of the reasons that vacations are so relaxing is that you are surrounded by a peaceful environment.
Not just that beautiful beach or that lovely mountain view, but the indoor surroundings as well. You are often staying in a place that is free of clutter, and visually appealing.
You can bring that same serenity to your own home as well, by following these five simple tips:
Assign a home for clutter
Start by collecting any objects that are randomly hanging out in the space.  Assign a home to any of those items that do not already have a designated spot to live. If you don't have enough space for that to happen, then it means that you have too much stuff for your current living situation. Begin the de-cluttering process by eliminating doubles of items, things you don't use, and things that you "just don't get around to" repairing.
Surround yourself with what you love
From paint color to furniture to décor, be intentional about what you choose to surround yourself with. Often these choices were made on the fly, or out of convenience. Do not underestimate the importance of consciously selecting things that make you feel good in the space. When you have objects that you are indifferent to, or actually dislike, it subconsciously affects your feelings about the space.
Have clear systems
Clutter happens when we don't have a system in place that works for you. Whether it's the incoming mail, the sporting equipment or the laundry, if you don't have a clear process for how objects move from point A to point B, things get backlogged. Address your most problematic areas by implementing a system that works for you. If you have a system in place, and things are still chaotic, that is a sign that the system is not in alignment. Proper systems take experimentation. Keep trying until you find something that works for you!
Designate a Maintenance area
Often stuff that requires our attention hangs out in our active living areas demanding our focus, and yet these objects get ignored. After a bit, they start blending in with everything else and become part of a cluttered landscape, stealing our peace of mind. Designate an area where these objects will be stored until they are handled. And so they are not forgotten, create an actual time in your schedule, such as when you are doing other household chores, to address one or two objects from this area.
Add vacation spot elements
Whether you are drawn to the beach in Bali or the museums of Rome, surround yourself with items that evoke your favorite vacation destination. This might mean seashells, sheer curtains and lanterns or ornately framed artwork. You decide! What physical elements do you think of when you think of relaxing? Add these items into your living spaces.
____________________________________________________________
Ready to relax? Don't miss the Fabulous Paper Purge this April! Release your paper clutter & clear your mind with the free 7 day online guided event. Connect with Susan on Facebook for her weekly tips.
Susan Shehata, also known as The Space Guru™, is an Educator, Holistic Guide and Performing Artist, who specializes in helping you identify and release hidden obstacles that hold you back from an Inspired Home & Life. Though her offerings are varied, the goal of her work is the same: to clear the deep patterns of resistance in people's lives. www.SusanShehata.com
One of the most difficult things when my husband and I built our house was choosing paint colors.  Armed with several fan decks of paint swatches with seemingly thousands of choices (who knew there could be so many choices for white!?), we attempted to visualize an entire room using a 2 x 2 inch square sample.
The process was overwhelming and here's a little known secret, even though I have a furniture and decor store, design doesn't come easily to me.  That's why I am happy to share tools when I find them that can help others who struggle like me.
Life would have been so much easier back when we were building our house if I had an iPhone with some handy apps that could help me in this process. SherwinWilliams' ColorSnap app and Benjamin Moore's Color Capture app allow you to take a picture of a color that you like and it will match it to one of their colors.  If there is variation in the photo, it will match each of the colors in the photo.  Take a picture of furniture you like or a picture of a wall you see at a friend's house.  So simple!  One word of caution though is that the lighting can completely change the color so remember that when snapping the photo.
These apps are a great tool to help narrow down color choices but doesn't completely eliminate the need for reviewing the color samples in the store.  Choosing paint colors doesn't have to be so overwhelming with this little lifehack!
Guess who added Reclaimed Wood Furniture to her store?!  This gal!  Check out our gorgeous new handcrafted tables and chairs and continue to check back for new items being added.    You can find them all here!
Driftwood Coffee Table with Shelf
Whitewash Driftwood Coffee Table
Give your bar a nautical flair with this nautical bar!
Wouldn't you love to kick back on a swing like this with a good book and glass of lemonade?
You can purchase this swing from my store The Simple Life Decor.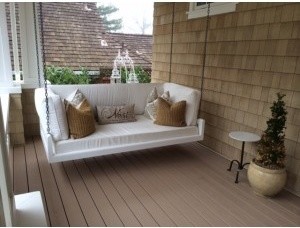 I really like the horizontal paneling in this room.  I thought the driftwood mantel in this coastal style living room was interesting. What do you think of it?
The ceiling in this place and the bench room divide?  Amazing!  Such a gorgeous coastal style living room!