Do you have a relatively small kitchen space? Whether the small space is at home or at a cottage, you can make the most out of your small spaces with these few hacks and tricks!
1.) Small furniture in a small space isn't always best. A bigger dining table or chairs can often be better than a smaller size. Bigger doesn't always mean over powering.
2.) Combine like objects such as garbage and recycle into a cabinet space. Have it "hidden" within the cabinet space.
3.) Use mirrors or glass to bounce light around, it'll make the room look more spacious.
4.) Think vertically! Vertical lines make the room "reach up to the sky." This can involve cabinets, artwork, and appliances.
5.) To the ceiling cabinets. Cabinets that stop before the ceiling really show how small the room may be.
6.) Light colored cabinets. Light colored cabinets and cabinets with glass front doors lighten up the space where dark colored cabinets give the impression that the room is much smaller that it is.
7.) Let light in. Don't have a window treatment that blocks a lot of light entering the room. Rooms that don't have a lot of light entering them tend to downsize them.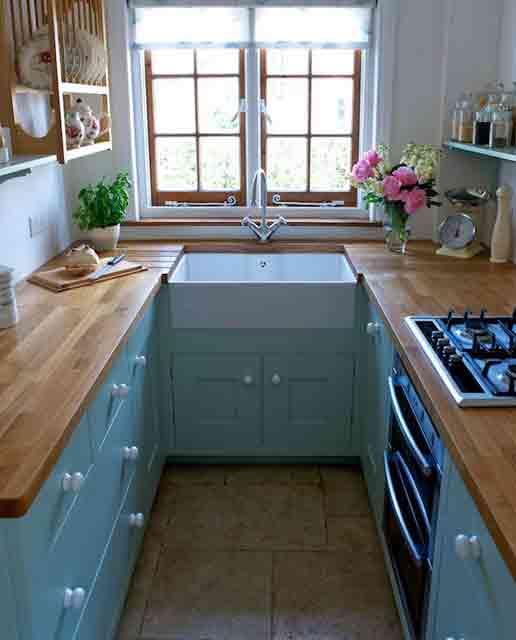 8.) Put function FIRST. Create the space based on your natural habits. If the first thing you do in the morning is get a pot of coffee going, then make sure that is a very accessible spot verses putting in storage and taking it out every morning. That way, it'll be easier to go about your daily routine.
9.) Make sure you can move efficiently between the stove, sink, and refrigerator. This is what's called the work triangle. According to NKBA (National Kitchen and Bath Association) standards, space between the sink to the refrigerator should be no more than 9 feet. From the sink to the stove should be no more than 4 feet. Obviously in a smaller space this isn't exactly possible, therefore adjustments would be made.
There you have it! Hopefully these great tips will help enlarge your small area of a kitchen within your home or home away from home! If you have anymore tips or tricks, please share with us in the comment box below!
Please check us out on Facebook, Twitter, and Pinterest for more great inspirations!
https://www.facebook.com/TheSimpleLifeDecor
https://www.pinterest.com/thesimplelifede/
https://twitter.com/TheSimpleLifeDe
Images founded on Google.
Buying new furniture or getting new carpet installed is a huge commitment. When you bought your first set of brand new furniture, did you plan on having children? Pets? Children and pets can play a huge role when it comes to picking out the right fabric for your brand new furniture pieces. When you got the basement or living room refinished with new carpet, did you expect all those juice and pet stains? With today's manufacturing, there are many choices when it comes to fabrics. Even if you want to go a more natural fiber route, the choices are sure to please!
I'm going to give you a little intake on what I believe are appropriate fabric choices for select furniture and carpet. All of this information, I received in my Textiles class this past semester. We learned all the different types of fabrics, how they are made, how to take care of them, and especially what works best for your individual home.
First fabric I would choose for furniture is 100% Polyester.
Favorable Properties
-Durable/strong
-Soft hand
-Abrasion resistant
-Wrinkle resistant
-Easy care
-Thermoplastic (capable of softening or fusing when heated and of hardening again when cooled)
Unfavorable Properties
-Oil stains can not be removed
-Pills
-Static issues
-Doesn't breathe well
The second fabric I would choose for furniture is Acrylic.
Favorable Properties
-Thermoplastic
-Easy care
-Light weight
-Less expensive than wool
-Resist wrinkling
-Resist wear and fading
Unfavorable Properties
-Variation of quality
-Elongation
-Poor wet strength
-Heat sensitive
The fabric I would use for carpet is Olefin.
Favorable Properties
-Absorbs nothing
-Durable
-Excellent abrasion resistant
-Resists sunlight
-Strong fiber
-No shrinkage
-Excellent wicking when thin
Unfavorable Properties
-Appearance
-Must be solution dyed
-Melts easily
All of these fabrics can be combined to create a better taste or feel to the original fabric. Whether you have kids who are spilling all over or have pets that regularly spend time on the furniture, these fabric choices are guaranteed to make you less stressed about that beautiful new sofa or chair in your household.
For more great tips, please follow the link below 🙂
http://www.bhg.com/decorating/lessons/basics/guide-to-upholstery-fabrics/
Bibliography
Nielson, Karla J. Interior Textiles: Fabrics, Applications, & Historical Styles. Hoboken, NJ: John Wiley & Sons, 2007. Print.