Color is every where… we can't escape it! Have you ever thought about what color does to you? To your emotions? Color can affect our brainwaves, motions, and biological systems. Now, when decorating your bedroom or living room, have you ever really thought about the colors your using? Here are some examples of how colors can affect you~
Red: courage, excitement, love, passion, sexy, increases appetite, festivity ( holidays).
Negative- hatred, aggressive, rage, war, raises blood pressure, fear.
Consumer Behavior- used to increase impulse buying
Blue: associated with water, cool, calm, comfortable, clean, relaxing.
Negative- Introversion, sadness, depression, cold, low class, isolation, loneliness, gloominess
Consumer Behavior: Fashion consultants recommend wearing blue to job interviews because it symbolizes loyalty. Lighter shades have been used to symbolize luxury.
Green: relaxed, growth, renewal, eternal life
Negative: poison, envy, inexperience, immaturity, sourness, disease, guilt, rawness.
Consumer Behavior: Hospitals often use green because it relaxes patients.
Orange: warmth, fruitfulness, brightness, happiness, strength, endurance
Negative: brashness, danger, increases pulse rate, inexpensive/cheap
Consumer Behavior: associated with inexpensive items and highlight sale items.
Yellow: cheerful. happiness, gold, sun, wisdom, self-esteem
Negative: Caution, sickness, nervousness
Consumer Behavior: Yellow enhances concentration, hence its use for legal pads and pencils
Take a look at these photos and think about how these rooms make you feel…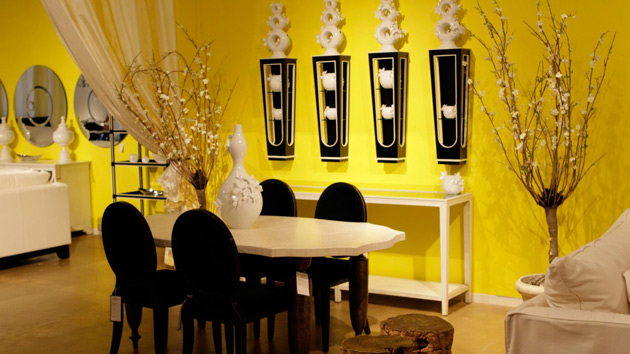 How do you feel about these spaces? Did the colors make you anxious? Did they relax you? How much time do you think you'll be able to spend time in these rooms? Hopefully next time when you're in a room where there may be a bright yellow vase, you'll be able think about why that vase may or may not bother you!
Images found by Google.com
Reed, Ron. Color Design: Transforming Interior Space. New York: Fairchild, 2010. Print.
One of the most difficult things when my husband and I built our house was choosing paint colors.  Armed with several fan decks of paint swatches with seemingly thousands of choices (who knew there could be so many choices for white!?), we attempted to visualize an entire room using a 2 x 2 inch square sample.
The process was overwhelming and here's a little known secret, even though I have a furniture and decor store, design doesn't come easily to me.  That's why I am happy to share tools when I find them that can help others who struggle like me.
Life would have been so much easier back when we were building our house if I had an iPhone with some handy apps that could help me in this process. SherwinWilliams' ColorSnap app and Benjamin Moore's Color Capture app allow you to take a picture of a color that you like and it will match it to one of their colors.  If there is variation in the photo, it will match each of the colors in the photo.  Take a picture of furniture you like or a picture of a wall you see at a friend's house.  So simple!  One word of caution though is that the lighting can completely change the color so remember that when snapping the photo.
These apps are a great tool to help narrow down color choices but doesn't completely eliminate the need for reviewing the color samples in the store.  Choosing paint colors doesn't have to be so overwhelming with this little lifehack!