Hey guys! Abigail the intern here! As many of you know or for some who don't know, I have been interning for The Simple Life Decor the past few months as part of my Interior Design Degree at Fox Valley Technical College in Appleton, Wisconsin.  This being my first internship ever, I learned a lot and I would like to share with you some of my experiences!
I was very excited to get to know Wendy and The Simple Life Decor! At first, I was a little nervous because, well, this is my first internship and the fact that I was working for an online store was something very different! But I was ready for a challenge! At first, Wendy got me going on the whole social media gig. For the first couple of weeks, I began updating Facebook, Twitter, and Pinterest with new ideas to share with the world and some for us to try ourselves! Looking up ideas on Pinterest and sharing them on Facebook and Twitter really helped get the growing business attention! It wasn't always easy though, I couldn't always post things I like, but what the store has for a style. I also learned that styles do vary depending on the person. For example.. view of cottage/cabin is very woodsy and another persons view may be very chic.
This would be my example of a cabin/cottage.
Via http://www.foothillsfurniture.com/cabin-decor.php
Where this could be another example..
via http://organic-linkbuilding.info/cottage-decor/
Both ways are technically correct, but I have also learned to ask the right questions when asking about certain styles because they can get so easily mixed up.
Another thing I've learned is that it's not what you want, it's what the customer wants. Yes, you may be the designer but in the end, if you client isn't happy, you're not going to be happy! When you are becoming a designer and starting out, it's so important to gain trust from your clients, and that's what I stride to do! If a client isn't happy, figure out why and fix it the best you can! But remember, you can't please everyone in the world!
Blogging is also something I have greatly enjoyed doing for The Simple Life Decor! I'm honestly not the best writer in the world but it's always been easy for me in a way. I really enjoy giving you guys tips and advice about new design trends that are going on! The design world is constantly changing and it's never easy keeping up with everything but why not try?! 🙂
Another thing I have learned is that I can't let myself get flustered with myself if a client isn't pleased with a project I put together for them. Yes it hurts my feelings and I tend to get really down on myself sometimes, but then I have to stop and think about the bigger picture. Just because one client didn't like my work, doesn't mean the rest of the world won't like it! It's all part of learning, and a lot of learning is what I did with this internship!
All in all, you guys have been just wonderful! Thank you for letting me be part of your designing journey!
Oh! Before I forget! Check out this slide show I made of the store that just Officially OPENED!! 
http://www.kizoa.com/Video-Maker/d20620425k3249998o1/diaporama%20kizoa
Thanks again for this wonderful experience!
-Abigail 🙂
The Simple Life Decor is OFFICIALLY OPEN FOR BUSINESS in Egg Harbor, Wisconsin!!
As you guys know, I have been online mainly for a couple years now and I'm happy to share with you guys that I have an official store! The Simple Life Decor is located in Egg Harbor, Wisconsin in the beautiful Door County.
Let me take you through my store and show you how hard myself and my team have been working to make this dream come true! All of these products are for sale in our store ONLY! So come on in and check us out!
We're open Thursday, Friday, Saturday, and Sundays all summer long!
Like I've said, officially OPEN FOR BUSINESS!!
Photo Credits to Abigail Schoenike
Slide Show Credits to http://www.kizoa.com/
http://www.kizoa.com/slideshow-maker/d20620425k3249998o1/the-simple-life-decor
Don't Forget!!!!
I have an instagram page now!! Look up: Simple Life Decor
Have you guys heard of the High Point Market located in High Point, North Carolina? This is actually a pretty cool event that happens twice a year in April and October!
What is the High Point Market? 
The High Point Market is the largest furnishings industry trade show in the world, bringing more than 75,000 people to High Point every six months. Serious retail home furnishings buyers can be found in High Point twice a year because if you can't find it in High Point…it probably doesn't exist.
It consists of…
180 Buildings
11.5 Million Square Feet of Show space
75,000 Attendees Each Market
More Than 2000 Exhibitors
100+ Countries Represented
Tens of Thousands of New Product Introductions
Approximately 10% of Attendees Are International
"Market Facts." High Point Market. N.p., n.d. Web. 07 May 2015.
What can you find there?
You can find one of a kind products that have yet to be introduced to the designer world! Furniture, accessories, and so much more to discover throughout every single building! There are also a bunch of educational events, seminars, and other social events to help you learn, social, and network with in the designer world.
This is a picture of the map from April 2015. A map of the event in October will be available late September 2015.
Designers! Designers! Designers!
This event is known for its wide variety of designers from all over the world! But who exactly can be seen here? Past designers and companies include:
Antonello Italia
Modern contemporary dining tables, sideboards, bookcases, TV stands, coffee tables, consoles, complements. Made in Italy.
Imports Decor Inc.
Imports Décor is located in Hillsborough, NJ. We carry an extensive line of stylish and elegant interior accessories and high quality doormats. Our products are manufactured in India, ensuring the highest quality and lowest price.
Kravet Fabrics
Kravet Inc., established in 1918, is the industry leader in to-the-trade home furnishings. This fifth generation family business distributes fabrics, furniture, wall coverings, trimmings, carpets and accessories. The family's commitment to innovation has helped the company transform from a small fabric house to a global leader, representing brands and designers from all over the world. Kravet Inc. owns Kravet, Lee Jofa, Groundworks, GP & J Baker and Brunschwig & Fils, all high-end fabric houses that specialize in style, luxury and exceptional design. With locations in North America and worldwide, Kravet Inc. offers the highest level of customer service, quality products and web technology for today's design professional. For further brand information, please refer to www.kravet.com.
…and many, many more!
"Find Exhibitors." High Point Market. N.p., n.d. Web. 07 May 2015.
Here is a short video on the exciting new products that are to come!
https://www.youtube.com/watch?feature=player_embedded&v=7l0xW13NAOs
"News & Videos." High Point Market. N.p., n.d. Web. 07 May 2015.
I've been on a tropical punch lately with summer approaching! The tropical style has been around for years and years, but lately I have been noticing it showing up more and bolder than ever! 
Let's picture an island. What do you see? Palm trees? Sand? Vibrant colors? Let me give you some inspiration!
Bora Bora
British Virgin Islands- St. Thomas
Phi Phi Island- Thailand
Okay, those pictures are almost too perfect and basically thousands of miles away! Why not bring some of that tropical  into your very own home for a vacation you never have to leave?!
Colors! Colors! Colors!
This is the perfect opportunity to bring out those big, bold colors and prints! Come on now, don't be shy with those either! The more colors, the better! Pick at least 3 different colors to start out with! Here are a couple of different color pallets that are fun and tropical!
Sherwin-Williams
Better Homes and Garden
Patterns
Lets add some patterns in there with those colors!
Don't Forget That Greenery!
Here is a great go to guide for those greens to add into your space! Remember… there are more plants out there than just palm trees!
Lets Put It All Together!
There's only one thing left to do and that's to put it all together! Remember, this is your tropical vacation spot! You can alternate any of these designs to make it all your own!
I hope this gives you some inspiration to design your own tropical paradise!
Images found on Google and Pinterest
***For more inspiration check out our Pinterest Pages at
https://www.pinterest.com/thesimplelifede/a-tropical-touch/
https://www.pinterest.com/thesimplelifede/color-is-beautiful/
BONUS!
Here is a simple recipe I have found to enjoy while in your vacation spot 🙂
Ingredients:
Large Batch:
– 1/2 cup lemon juice
– 1/4 cup strawberry puree (approximately 10 strawberries blended well)
– 3/4 cup sugar (or to taste)
– 1 Tbsp vanilla extract
– 1/4 cup pineapple puree (crushed pineapple works too)
– 1 gallon water
Single Serving:
– 2 Tbsp lemon juice
– 1 Tbsp strawberry puree (approximately 3 strawberries blended well)
– 3 Tbsp sugar
– 1/2 tsp vanilla extract
– 1 Tbsp pineapple puree (approximately 6 pineapple chunks)
– 12 oz water
Directions:
– Mix all ingredients in a large pitcher or a large glass until sugar is dissolved and well mixed.  Serve over ice or chill in the fridge.  Enjoy!
http://www.whilehewasnapping.com/2014/07/strawberry-pineapple-lemonade/
5 Simple Tips to Create a Relaxing Home   

By Guest Blogger Susan Shehata
I believe that one of the reasons that vacations are so relaxing is that you are surrounded by a peaceful environment.
Not just that beautiful beach or that lovely mountain view, but the indoor surroundings as well. You are often staying in a place that is free of clutter, and visually appealing.
You can bring that same serenity to your own home as well, by following these five simple tips:
Assign a home for clutter
Start by collecting any objects that are randomly hanging out in the space.  Assign a home to any of those items that do not already have a designated spot to live. If you don't have enough space for that to happen, then it means that you have too much stuff for your current living situation. Begin the de-cluttering process by eliminating doubles of items, things you don't use, and things that you "just don't get around to" repairing.
Surround yourself with what you love
From paint color to furniture to décor, be intentional about what you choose to surround yourself with. Often these choices were made on the fly, or out of convenience. Do not underestimate the importance of consciously selecting things that make you feel good in the space. When you have objects that you are indifferent to, or actually dislike, it subconsciously affects your feelings about the space.
Have clear systems
Clutter happens when we don't have a system in place that works for you. Whether it's the incoming mail, the sporting equipment or the laundry, if you don't have a clear process for how objects move from point A to point B, things get backlogged. Address your most problematic areas by implementing a system that works for you. If you have a system in place, and things are still chaotic, that is a sign that the system is not in alignment. Proper systems take experimentation. Keep trying until you find something that works for you!
Designate a Maintenance area
Often stuff that requires our attention hangs out in our active living areas demanding our focus, and yet these objects get ignored. After a bit, they start blending in with everything else and become part of a cluttered landscape, stealing our peace of mind. Designate an area where these objects will be stored until they are handled. And so they are not forgotten, create an actual time in your schedule, such as when you are doing other household chores, to address one or two objects from this area.
Add vacation spot elements
Whether you are drawn to the beach in Bali or the museums of Rome, surround yourself with items that evoke your favorite vacation destination. This might mean seashells, sheer curtains and lanterns or ornately framed artwork. You decide! What physical elements do you think of when you think of relaxing? Add these items into your living spaces.
____________________________________________________________
Ready to relax? Don't miss the Fabulous Paper Purge this April! Release your paper clutter & clear your mind with the free 7 day online guided event. Connect with Susan on Facebook for her weekly tips.
Susan Shehata, also known as The Space Guru™, is an Educator, Holistic Guide and Performing Artist, who specializes in helping you identify and release hidden obstacles that hold you back from an Inspired Home & Life. Though her offerings are varied, the goal of her work is the same: to clear the deep patterns of resistance in people's lives. www.SusanShehata.com
Do you have a relatively small kitchen space? Whether the small space is at home or at a cottage, you can make the most out of your small spaces with these few hacks and tricks!
1.) Small furniture in a small space isn't always best. A bigger dining table or chairs can often be better than a smaller size. Bigger doesn't always mean over powering.
2.) Combine like objects such as garbage and recycle into a cabinet space. Have it "hidden" within the cabinet space.
3.) Use mirrors or glass to bounce light around, it'll make the room look more spacious.
4.) Think vertically! Vertical lines make the room "reach up to the sky." This can involve cabinets, artwork, and appliances.
5.) To the ceiling cabinets. Cabinets that stop before the ceiling really show how small the room may be.
6.) Light colored cabinets. Light colored cabinets and cabinets with glass front doors lighten up the space where dark colored cabinets give the impression that the room is much smaller that it is.
7.) Let light in. Don't have a window treatment that blocks a lot of light entering the room. Rooms that don't have a lot of light entering them tend to downsize them.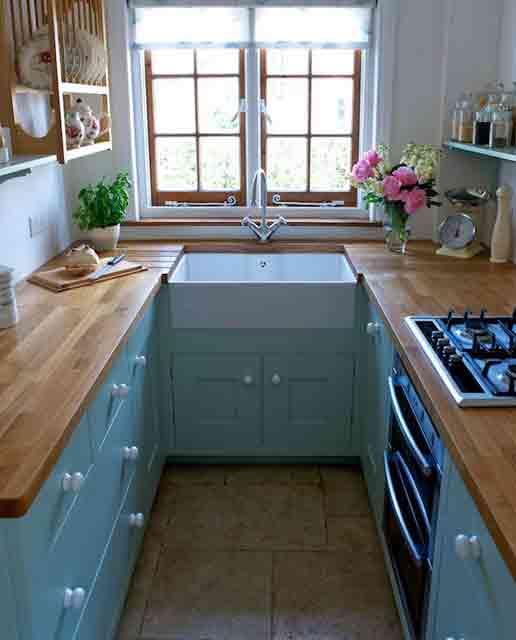 8.) Put function FIRST. Create the space based on your natural habits. If the first thing you do in the morning is get a pot of coffee going, then make sure that is a very accessible spot verses putting in storage and taking it out every morning. That way, it'll be easier to go about your daily routine.
9.) Make sure you can move efficiently between the stove, sink, and refrigerator. This is what's called the work triangle. According to NKBA (National Kitchen and Bath Association) standards, space between the sink to the refrigerator should be no more than 9 feet. From the sink to the stove should be no more than 4 feet. Obviously in a smaller space this isn't exactly possible, therefore adjustments would be made.
There you have it! Hopefully these great tips will help enlarge your small area of a kitchen within your home or home away from home! If you have anymore tips or tricks, please share with us in the comment box below!
Please check us out on Facebook, Twitter, and Pinterest for more great inspirations!
https://www.facebook.com/TheSimpleLifeDecor
https://www.pinterest.com/thesimplelifede/
https://twitter.com/TheSimpleLifeDe
Images founded on Google.
Buying new furniture or getting new carpet installed is a huge commitment. When you bought your first set of brand new furniture, did you plan on having children? Pets? Children and pets can play a huge role when it comes to picking out the right fabric for your brand new furniture pieces. When you got the basement or living room refinished with new carpet, did you expect all those juice and pet stains? With today's manufacturing, there are many choices when it comes to fabrics. Even if you want to go a more natural fiber route, the choices are sure to please!
I'm going to give you a little intake on what I believe are appropriate fabric choices for select furniture and carpet. All of this information, I received in my Textiles class this past semester. We learned all the different types of fabrics, how they are made, how to take care of them, and especially what works best for your individual home.
First fabric I would choose for furniture is 100% Polyester.
Favorable Properties
-Durable/strong
-Soft hand
-Abrasion resistant
-Wrinkle resistant
-Easy care
-Thermoplastic (capable of softening or fusing when heated and of hardening again when cooled)
Unfavorable Properties
-Oil stains can not be removed
-Pills
-Static issues
-Doesn't breathe well
The second fabric I would choose for furniture is Acrylic.
Favorable Properties
-Thermoplastic
-Easy care
-Light weight
-Less expensive than wool
-Resist wrinkling
-Resist wear and fading
Unfavorable Properties
-Variation of quality
-Elongation
-Poor wet strength
-Heat sensitive
The fabric I would use for carpet is Olefin.
Favorable Properties
-Absorbs nothing
-Durable
-Excellent abrasion resistant
-Resists sunlight
-Strong fiber
-No shrinkage
-Excellent wicking when thin
Unfavorable Properties
-Appearance
-Must be solution dyed
-Melts easily
All of these fabrics can be combined to create a better taste or feel to the original fabric. Whether you have kids who are spilling all over or have pets that regularly spend time on the furniture, these fabric choices are guaranteed to make you less stressed about that beautiful new sofa or chair in your household.
For more great tips, please follow the link below 🙂
http://www.bhg.com/decorating/lessons/basics/guide-to-upholstery-fabrics/
Bibliography
Nielson, Karla J. Interior Textiles: Fabrics, Applications, & Historical Styles. Hoboken, NJ: John Wiley & Sons, 2007. Print.
Color is every where… we can't escape it! Have you ever thought about what color does to you? To your emotions? Color can affect our brainwaves, motions, and biological systems. Now, when decorating your bedroom or living room, have you ever really thought about the colors your using? Here are some examples of how colors can affect you~
Red: courage, excitement, love, passion, sexy, increases appetite, festivity ( holidays).
Negative- hatred, aggressive, rage, war, raises blood pressure, fear.
Consumer Behavior- used to increase impulse buying
Blue: associated with water, cool, calm, comfortable, clean, relaxing.
Negative- Introversion, sadness, depression, cold, low class, isolation, loneliness, gloominess
Consumer Behavior: Fashion consultants recommend wearing blue to job interviews because it symbolizes loyalty. Lighter shades have been used to symbolize luxury.
Green: relaxed, growth, renewal, eternal life
Negative: poison, envy, inexperience, immaturity, sourness, disease, guilt, rawness.
Consumer Behavior: Hospitals often use green because it relaxes patients.
Orange: warmth, fruitfulness, brightness, happiness, strength, endurance
Negative: brashness, danger, increases pulse rate, inexpensive/cheap
Consumer Behavior: associated with inexpensive items and highlight sale items.
Yellow: cheerful. happiness, gold, sun, wisdom, self-esteem
Negative: Caution, sickness, nervousness
Consumer Behavior: Yellow enhances concentration, hence its use for legal pads and pencils
Take a look at these photos and think about how these rooms make you feel…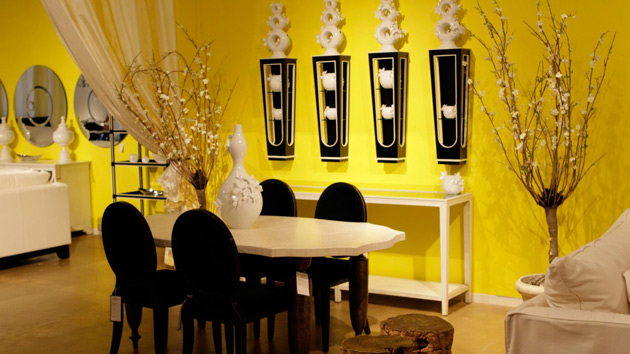 How do you feel about these spaces? Did the colors make you anxious? Did they relax you? How much time do you think you'll be able to spend time in these rooms? Hopefully next time when you're in a room where there may be a bright yellow vase, you'll be able think about why that vase may or may not bother you!
Images found by Google.com
Reed, Ron. Color Design: Transforming Interior Space. New York: Fairchild, 2010. Print.